Muck Footpad 14" Square - Normal Duty (2-Pack)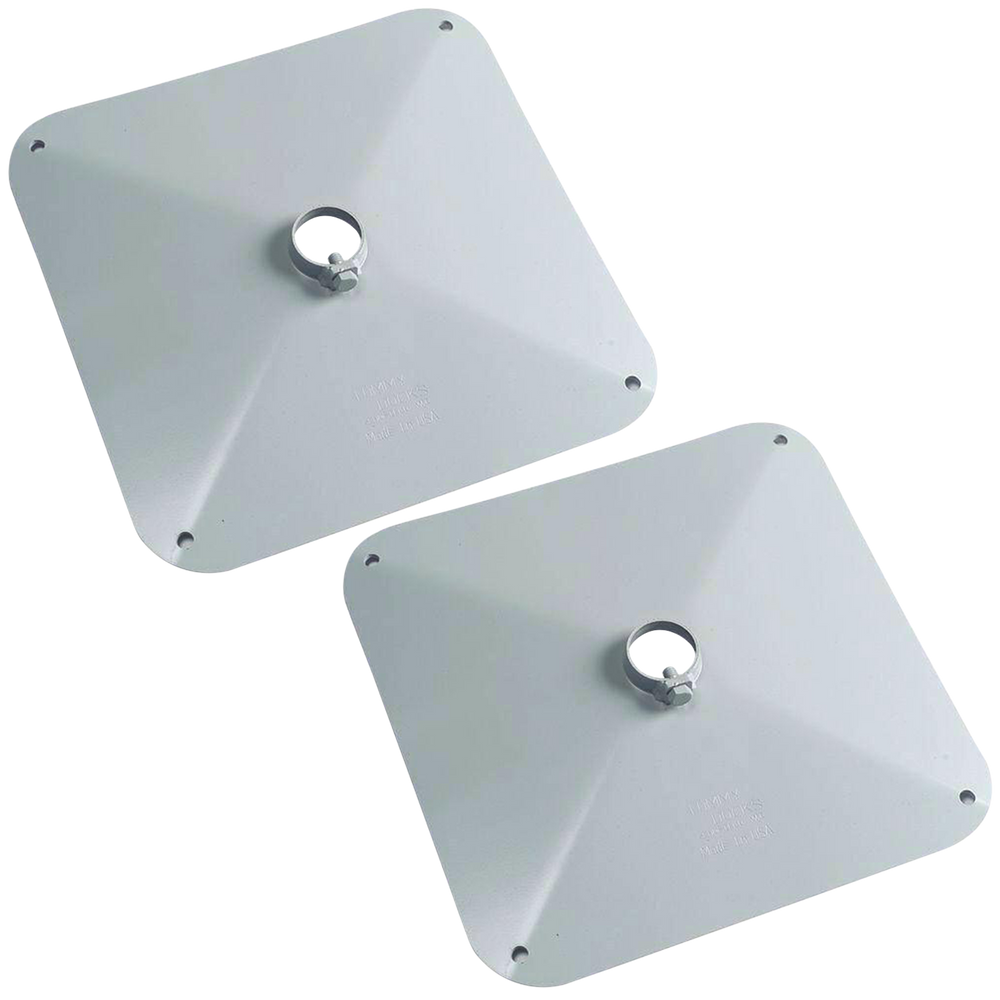 Muck Footpad 14" Square - Normal Duty (2-Pack)
Normal Duty Muckpad
Tommy Docks Normal Duty Muck Footpad is designed for use as a base with the Tommy Docks dock post pipe for soft or semi-soft lake bottoms.
For soft lake bottom soils that do not exceed 12 inches in-depth to keep your dock from sinking in soft soils once it settles. Reduces the need for constant readjustment of dock height due to sinking. Sold here as a two-pack.
Specifications
3/8"-16 x ¾" hex head cap full threaded screw to lock on the pipe
Normal Duty 14" square dome-shaped muck footpad, 9-gauge steel
Compatible with 1-1/4" Normal Duty pipe (1.66" outside diameter pipe)
Shipping
This item generally ships standard Ground via USPS, UPS, or FedEx.
Additional Information
Product Number: TD-20093-2
UPC: 724785209303
Constructed from 9-gauge steel. For superior rust protection, the muckpads are coated in gray polyester powder coat paint. Stainless Steel set bolt and hex nut on the pipe sleeve allow for adjustment year after year without rusting and seizing. Suggested to use with the corrosion-resistant Tommy Docks Normal Duty 1-1/4-inch pipe (outside diameter of 1.66 inches) superior dock pipe. Not suggested for salt or brackish waters.
Assembly & Installation
Assembly And Installation Instructions For Many Of Tommy Docks Products Are Available For Download.
Video Guides Are Not Available For Every Product. However, Our Video Library Is Constantly Expanding. If You Have Questions On Assembling Or Installing Your Dock, Please Contact Our Customer Service Team.
Frequently Asked Questions
Can I leave my dock system in over winter?
As the Tommy Docks system is essentially a free standing structure, ice build up around the dock can damage the dock. This is especially true if the ice rises into the dock from underneath or if windy conditions in the Spring time of the year cause the ice to move around. Therefore, the rule of thumb is if there is ice on the water body, the dock should be removed. Not doing so voids any warranties.
How do I know if I should use normal duty or heavy duty hardware?
Mainly depends on depth of water, wave action, size and layout of dock, and what dock system you are ordering. Use heavy duty with deep water, heavy wave or wind action, large dock layouts, and platinum dock packages/sections. Use normal duty in shallow water, little to no wave action, smaller dock layouts, and classic, classic+, and premium dock packages/sections. Normal Duty - 1.25" (1-1/4") inside diameter, 1.66" (1-5/8") outside diameter. Heavy Duty - 1.5" (1 1/2") inside diameter, 1.9" (1-7/8") outside diameter.
How do I know if I should use footpads, muckpads, or auger feet?
Muckpads are used for mucky lake bottoms. Auger feet are used for soft soil bottoms. Footpads are used for more solid lake bottoms. Can use a combination if lake bottom differs as dock goes out.