Cedar Dock Section Kit - 4' x 8'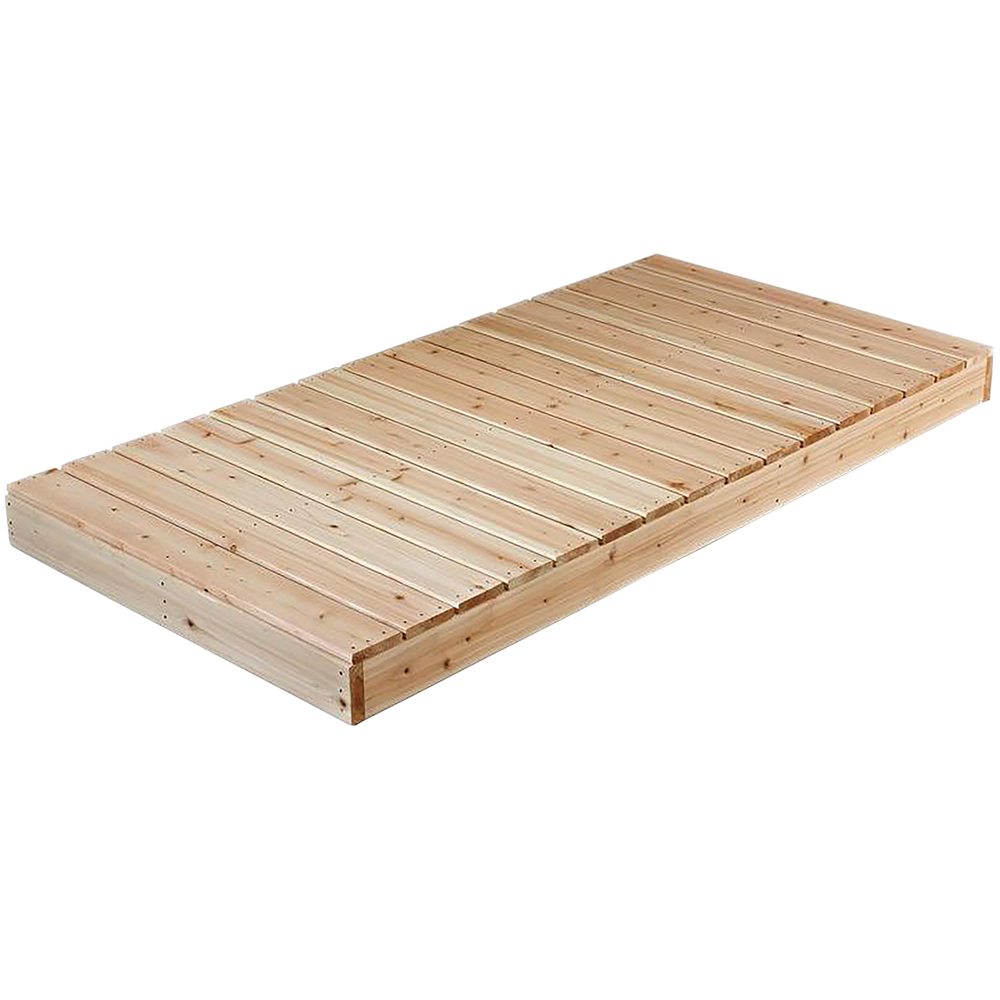 Cedar Dock Section Kit - 4' x 8'
Cedar Dock Section Kit
Tommy Docks has great do-it-yourself durable modular designs with the flexibility to expand on in the future.
Experience the look and feel of a professionally constructed dock without ever having to make a cut during assembly. This is a great do-it-yourself kit to create a 4 ft. x 8 ft. cedar dock section kit made out of exceptionally high-quality cedar. No sawing is required to assemble. These kits are kiln-dried premium quality cedar, boxed with hardware and simple instructions to assemble.
What's Included:
Kit Includes the following:
(16) 5/4" x 6" x 47 3/4" - Deck Board
(2) 2" x 6" x 21 5/8" - Support
(2) 2" x 6" x 47 3/4" - End Rail
(2) 2" x 6" x 93" - Side Rail
(1) 2" x 6" x 93" - Center Rail
Nails for assembly
Shipping
This item generally ships standard Ground via USPS, UPS, or FedEx.
Additional Information
Product number: TD-20777
UPC: 724785207774
All boards are precision cut exactly to size. No sawing is required. A hammer and tape measure is all that is required to assemble. Kit comes with nails for assembly. However, we do recommend using deck screws (not included) as they are more sturdy. Each cedar board is 1" thick by 47-3/4" long by 5-1/2" wide. There are 16 cedar decking boards per 4' x 8' frame. 5/4 x 6 radius edge cedar decking. Exceptionally high-quality cedar. These kits are kiln-dried premium quality cedar, boxed with nail hardware and simple instructions to assemble. Simple instructions help you assemble the dock in as little as 18 minutes. Section weighs 95lbs.
Assembly & Installation
Assembly And Installation Instructions For Many Of Tommy Docks Products Are Available For Download.
Video Guides Are Not Available For Every Product. However, Our Video Library Is Constantly Expanding. If You Have Questions On Assembling Or Installing Your Dock, Please Contact Our Customer Service Team.
Frequently Asked Questions
Is the wood treated? Do I need to seal it before assembly?
The wood is kiln dried, not treated. You'd have to seal and stain if you choose. Recommended product: Wood RX. Clean the boards off before applying anything.
Can I leave my dock system in over winter?
As the Tommy Docks system is essentially a free standing structure, ice build up around the dock can damage the dock. This is especially true if the ice rises into the dock from underneath or if windy conditions in the Spring time of the year cause the ice to move around. Therefore, the rule of thumb is if there is ice on the water body, the dock should be removed. Not doing so voids any warranties.
Are the brackets, feet and pipe included with each dock section?
No, they are sold separately unless you purchased a COMPLETE DOCK PACKAGE
What screws should I use on the cedar dock kit?
Coated screws that are NOT stainless steel: 3-1/2" for framing, 2-1/2" for deck boards on top.