Boat Ramp Kit 1200 lbs capacity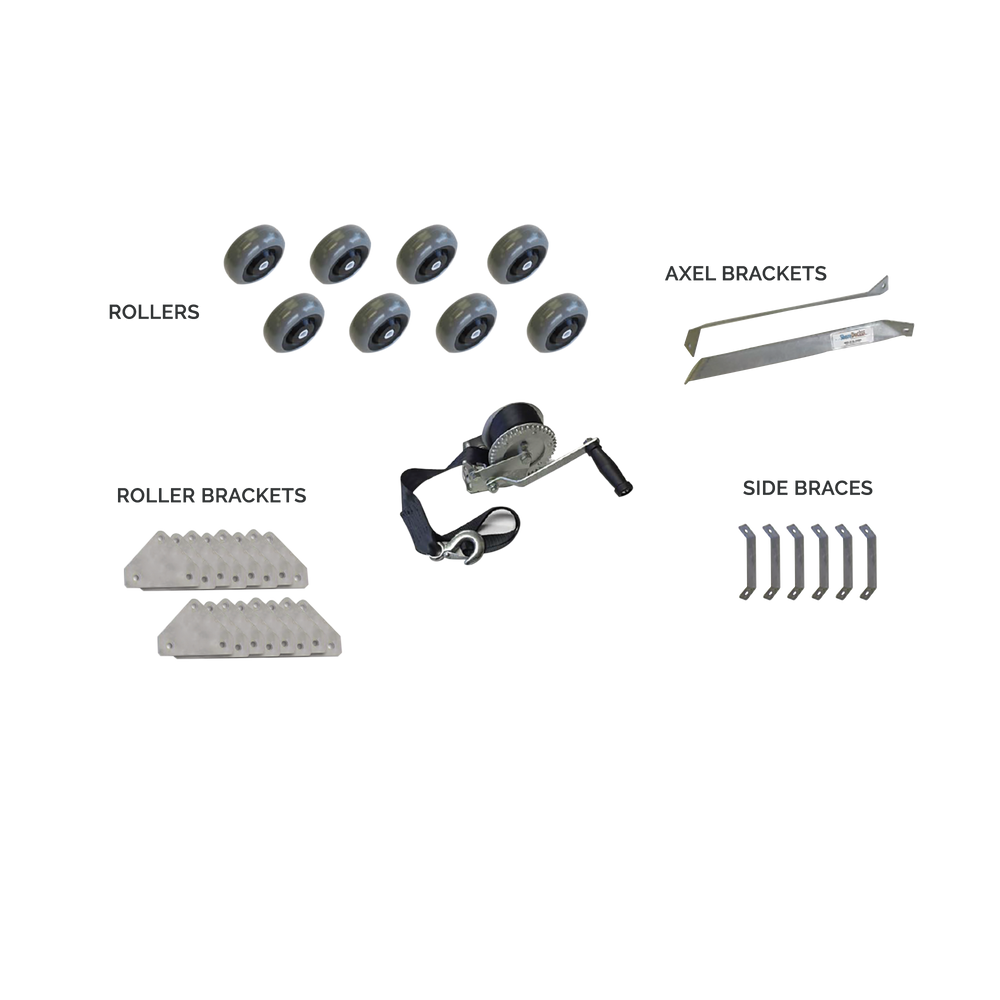 Boat Ramp Kit 1200 lbs capacity
1200lb Boat Ramp Kit
ShoreDocker Do-It-Yourself Boat Ramp Kits is the simple, cost-effective way to dock your boat or Jet Ski.
The basic kit is designed to accommodate watercraft with a loaded weight of up to 1200 lbs. and up to 20 ft. in length. Keeps your boat high and dry and out of the water.
Specifications
Kit includes:
Eight - polyurethane rollers with stainless steel axle bolts and locknuts.
16 - galvanized roller brackets (bolt onto dimensional treated lumber).
Six - galvanized strengthening side braces for a strong connection between "rail" beams and cross members.
Two - Hot-dipped galvanized axle brackets (Bolt onto dimensional treated lumber).
One - 1100 lbs. (dead pulling weight) winch with post bracing & 30 ft. strap with hook.
Complete guide to your ramp including suggestions for adding additional sections and supporting the ramp with blocking or legs.
ShoreDocker SD-1200 hardware sold separately.
Lumber sold separately.
Rollers are non-marking thermoplastic rubber with the proper hardness to protect the finish on your watercraft and provide ease of winching up onto the ramp.
All hardware brackets and fasteners are hot-dipped galvanized for superior corrosion resistance.
Shipping
This item generally ships standard Ground via USPS, UPS, or FedEx.
Additional Information
Product Number: SD-1200
UPC: 724785912005
ShoreDocker SD-1200 Hardware Sold Separately (HK-1200)
Or you will need to purchase the following:
8 - Stainless Steel Nylock Nut - 3/8"
8 - SS Hex Bolt - 3/8 x 2 1/2"
30 - Deck Screws - 2 1/2" - 3"
1 - Galv Carriage Bolt - 1/2" x 8" + nut and washer
37 - Galv Nuts - 3/8"
2 - Galv 3/8" Flat Washers
37 - Galv Split Washers - 3/8"
14 - Galv Carriage Bolts - 3/8" 2 1/2"
16 - Galv Hex Bolts - 3/8" x 2 1/2"
1 - Galv Hex Bolts - 3/8" x 4 1/2"
2- Galv Carriage Bolts - 3/8" x 4 1/2"
Pressure-treated lumber not included.
Other Accessories Available:
RS-1200 Extra Boat Ramp Rollers
WSB Extra Side Braces
SD-1200 Hardware
Assembly & Installation
Assembly And Installation Instructions For Many Of Tommy Docks Products Are Available For Download.
Video Guides Are Not Available For Every Product. However, Our Video Library Is Constantly Expanding. If You Have Questions On Assembling Or Installing Your Dock, Please Contact Our Customer Service Team.