24' T-Shaped Boat Dock System with Cedar Frame and Decking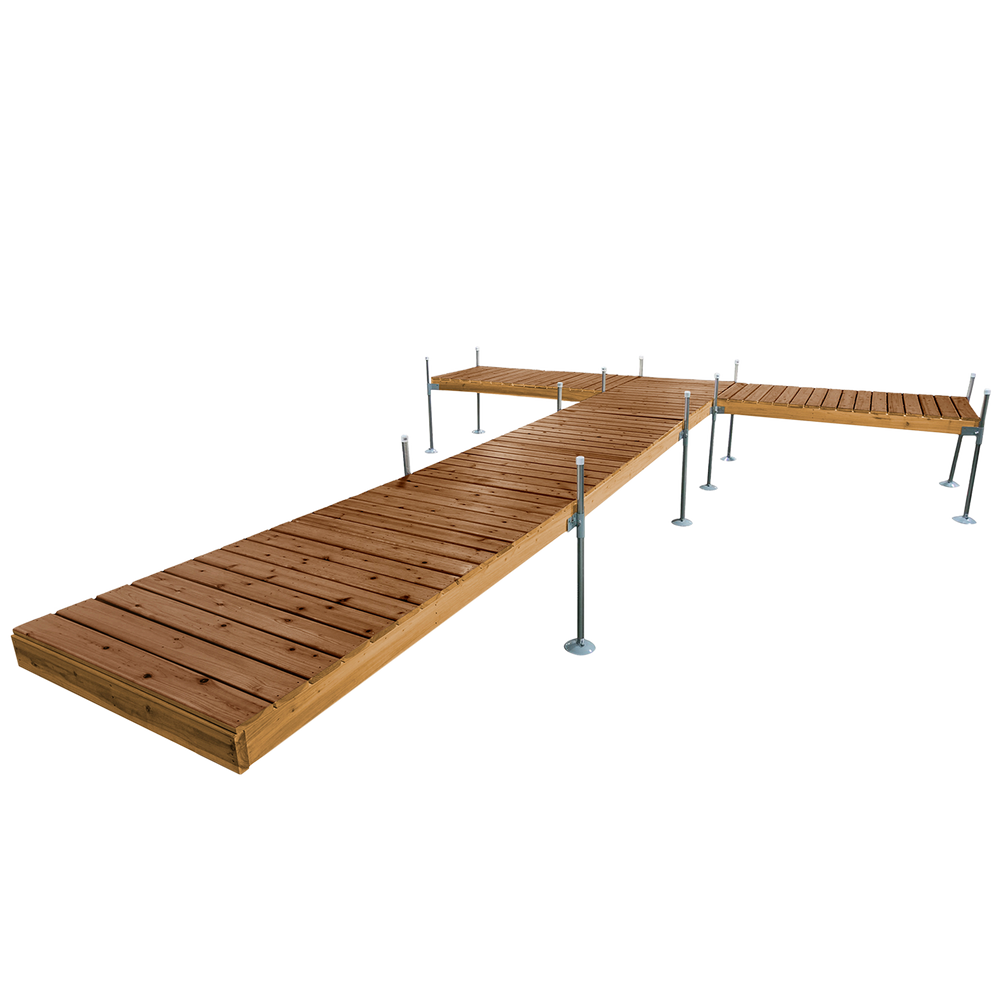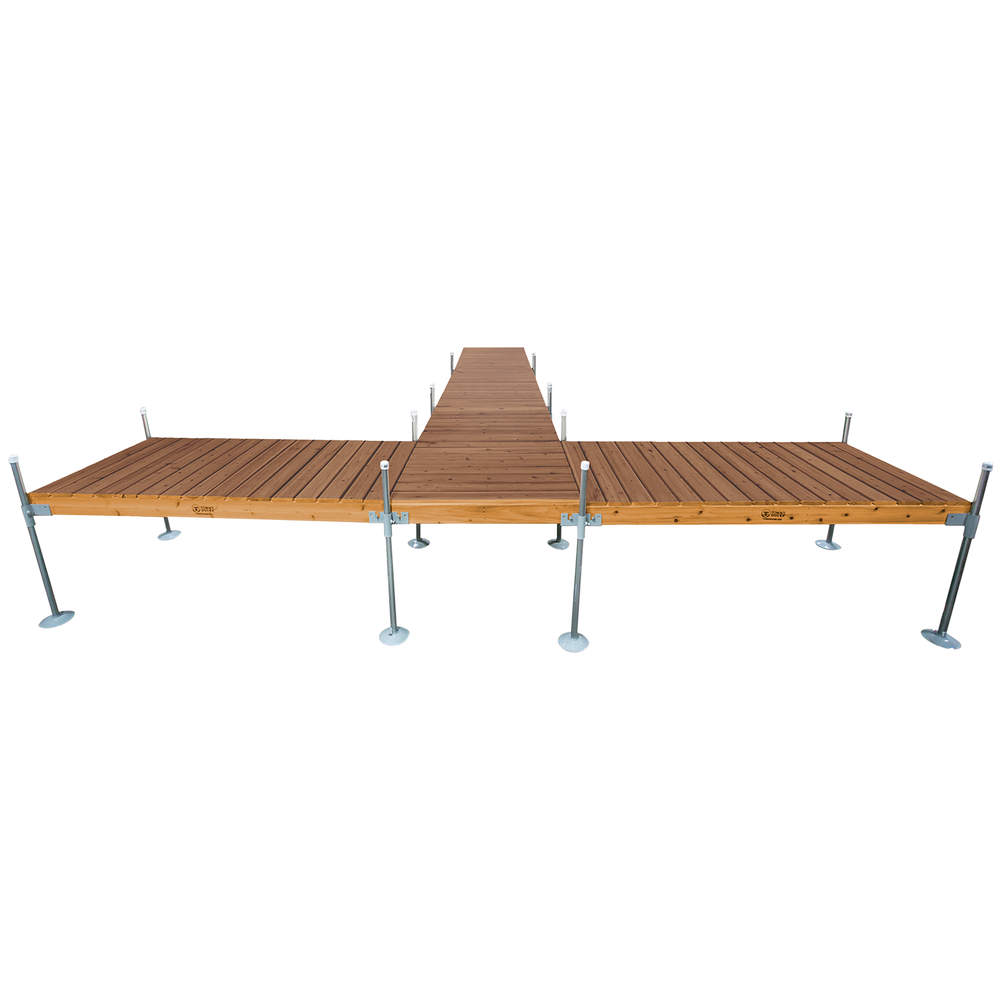 24' T-Shaped Boat Dock System with Cedar Frame and Decking
Classic Dock Package
Tommy Docks DIY dock systems are designed for lakes, rivers and ponds. This traditional cedar dock system comes with corrosion-resistant dock hardware and dock pipe.
Tommy Docks 24 ft. T-Shaped cedar complete dock package was designed with our customers in mind. This great all-in-one kit is constructed from high-quality cedar and corrosion-resistant hardware. No cutting is required for assembling. Designed with our customers in mind, this cedar dock is the perfect platform for summer fun. From swimming to fishing, it will be your base for countless memories. Plus, the modular design gives you the flexibility to expand in the future to accommodate your family and toys.
What's Included
With Tommy Docks' complete dock package, it's never been easier to build a cedar dock. This DIY dock kit includes the following components:
(5) 4 ft. x 8 ft. cedar dock kit # TD-20777
(2) 4 ft. corrosion-resistant superior dock pipes # A-50015
(2) 6 ft. corrosion-resistant superior dock pipes # A-50017
(8) 8 ft. corrosion-resistant superior dock pipes # A-50019
(4) Gray polyester powder coat paint outside corner brackets # A-50000
(6) Gray polyester powder coat paint straight brackets # A-50001
(2) Gray polyester powder coat paint inside corner brackets # A-50002
(12) Gray powder coat paint footpads # A-50005
(12) PVC Vinyl safety caps # A-50217
Conveniently located bracket hardware inside pipe sleeve (remove the plastic orange cap to access, as pictured)
Hardware (nails)
Shipping
Most dock packages are delivered via LTL or common carrier. The selected shipping service will require customers to be present for delivery once scheduled. Shipments may be delayed to some remote residential destinations.
Additional Information
Product Number: TDT-40024
UPC: 724785400908
Each cedar decking board is 1" thick by 47-3/4" long by 5-1/2" wide. There are 16 cedar decking boards per 4' x 8' section, plus the cedar boards that make up the frame. Please note that our cedar dock packages come unsealed and unstained. The product images show a dock that has been given a WoodRX clear coat. Additionally, the cedar must be pre-drilled prior to adding the brackets. The kit includes nails. However, you may choose to use your own screws instead. Using your own hardware would also require pre-drilling. Note that Tommy Docks hardware is not intended for use in brackish or salt waters. Our fixed dock systems are "non-floating," and we do not recommend attaching an additional floating dock section. Each all-cedar section weighs 95lbs.
Assembly & Instructions
Assembly And Installation Instructions For Many Of Tommy Docks Products Are Available For Download.
Video Guides Are Not Available For Every Product. However, Our Video Library Is Constantly Expanding. If You Have Questions On Assembling Or Installing Your Dock, Please Contact Our Customer Service Team.
Frequently Asked Questions
Is the wood treated? Do I need to seal it before assembly?
The wood is kiln dried, not treated. You'd have to seal and stain if you choose. Recommended product, Wood RX. Clean the boards off before applying anything.
Can I leave my dock system in over winter?
As the Tommy Docks system is essentially a free standing structure, ice build up around the dock can damage the dock. This is especially true if the ice rises into the dock from underneath or if windy conditions in the Spring time of the year cause the ice to move around. Therefore, the rule of thumb is if there is ice on the water body, the dock should be removed. Not doing so voids any warranties.
What if I want a different foot than the footpad that comes with the Complete Dock Package?
You will have to purchase the Muck Pad or Augers separately.